History of the ESB

In October 1975, the Electronic Studio Basel opened its doors for the first time. After many years of preparatory work, and partly against the resistance of some colleagues on the Board of Trustees of the Music Academy, Friedhelm Döhl (then director of the Music Academy Basel, MAB) and Gerald Bennett (then director of the Conservatory) managed to bring the first electronic studio at an educational institution in Switzerland into being. David Johnson was entrusted with managing it.
David Johnson

The first rather modest equipment included an ARP 2600 synthesizer, some loudspeakers, and two Revox tape machines. Among the first students to begin exploring the possibilities of the newly founded studio - then still a single, «bare room of perhaps sixteen square meters» (1) - was Daniel Weissberg, later the longtime director of the Sound Arts program at the Hochschule der Künste in Bern.
A short time later, at the start of 1976, the studio moved to Mittlere Strasse 55, into a house with multiple apartments, which was rented by the MAB. The opera school and the studio for non-European music were located in the same building.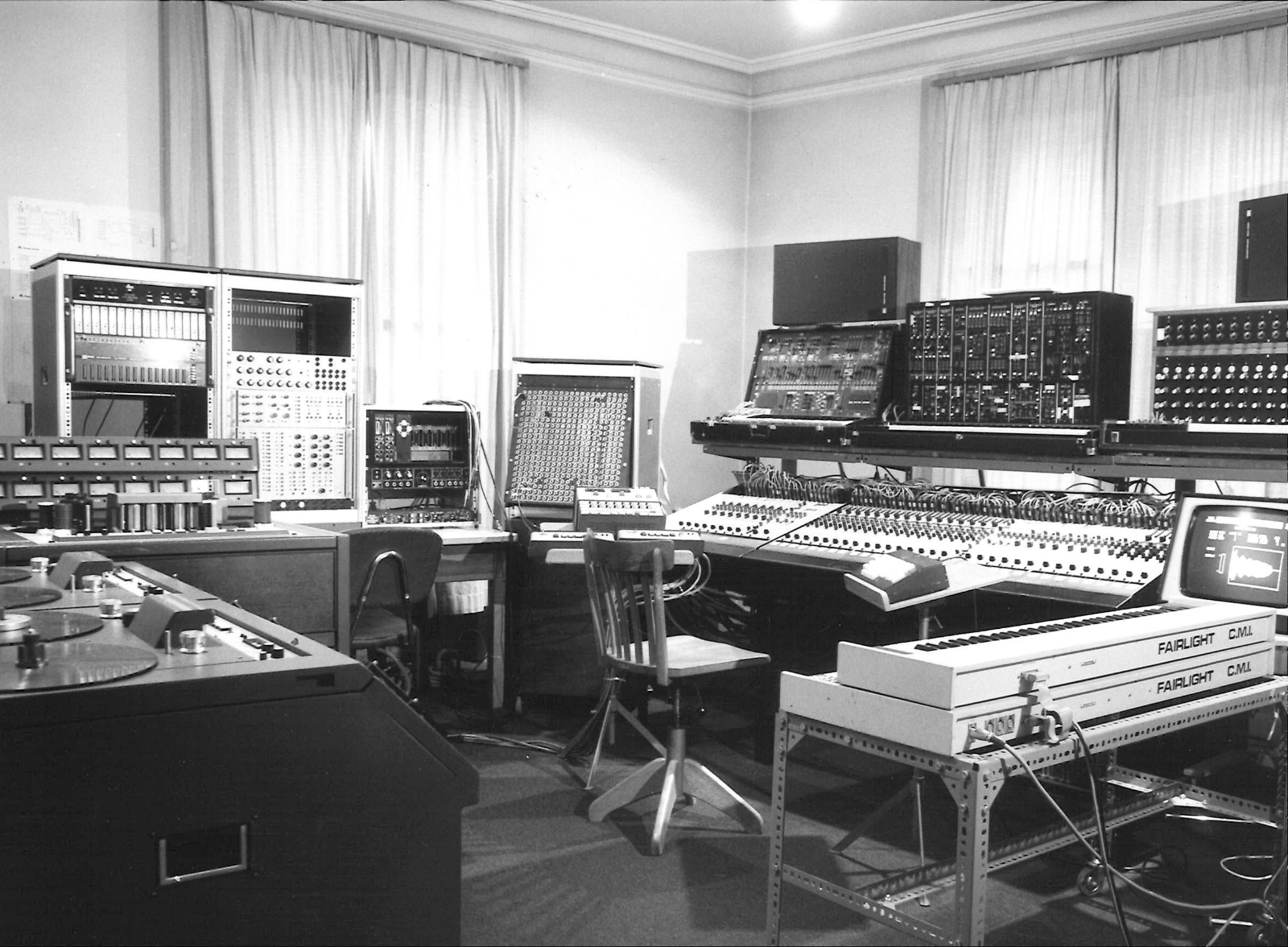 Mittlere Strasse 55

«The studio had a control room, a recording room, a storage room, and a room that served as a workshop and an office. David was director, technician, and secretary all in one», recalls Daniel Weissberg of those early, pragmatic days. (2) David Johnson was a freelancer with WDR in Cologne in the early 1970s, assisting Karlheinz Stockhausen in the performance of some of his compositions. He was also involved in the founding of the band Can (with Holger Czukay and Irmin Schmidt) and co-founded the Cologne Feedback Studio (together with Johannes Fritsch and Rolf Gehlhaar).
During this time, the Electronic Studio was a place of experimentation for anyone interested in electronic composition and sound shaping and came without a fixed curriculum or educational program. «I always tried to keep as many doors open as possible, even though I haven't really gone through any of them,' David Johnson said about it.» (3)
During this early period, numerous works were already being realized and performed, including works by Johnson, Weissberg, Holliger, and others. These were mostly tape compositions, sometimes conceived as playback tapes, or works for microphones, tape loops, and feedback. And although the ARP synthesizer is hardly to be found in these works at the beginning, it is one of the few instruments that has survived the years and is still part of the ESB's inventory and enjoys continued popularity today.
As a complement to practical work with electronic equipment and technology, thematic events with lectures and workshops on all aspects of electronic music were frequently held by, among others, Vinko Globokar, Mauricio Kagel, Bruno Spoerri, Gottfried Michael König and Thomas Kessler.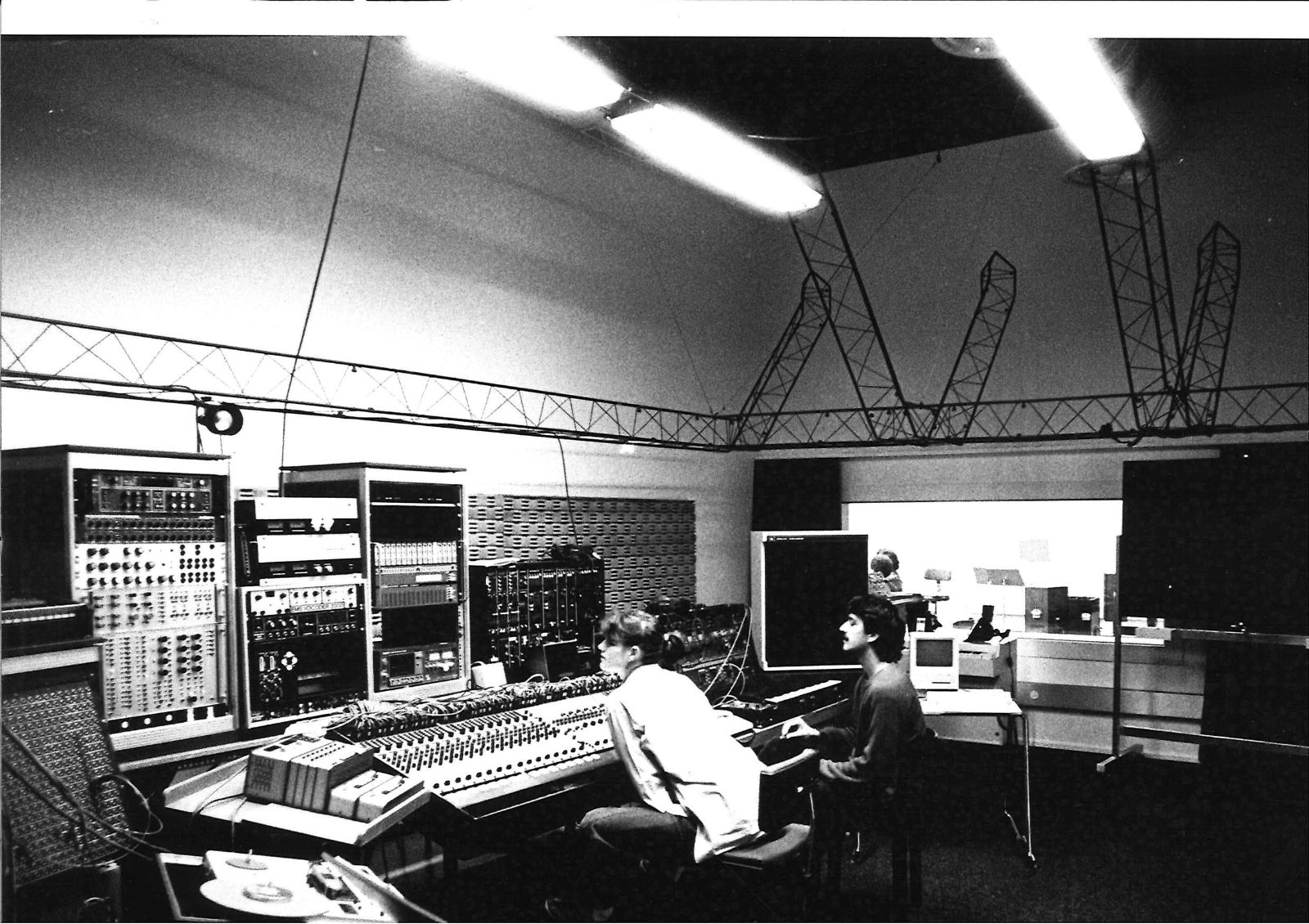 Regie in the 80s

In the mid-1980s, a new section was added to the main campus of the Music Academy by converting the facilities of the former Böhm print shop. Rudolf Kelterborn and Gerhard Hildenbrand were the driving forces behind the integration of the Electronic Studio into the main center of the Music Academy.
Thomas Kessler oversaw the planning and conception of the studio space for this conversion and was supported by Ernst Neukomm, an experienced audio technician from Swiss Radio DRS. The new studio, which still exist today, was opened in December 1986. Thomas Kessler replaced David Johnson as head of the studio. Ernst Neukomm and Jürg Jeklin were hired as staff members.
Under Kessler the studio got a clearer orientation towards live-electronics. The festival Tage für live-elektronische Musik (Days for Live Electronic Music) was launched in the early 1990s together with the International Society for New Music (IGNM) and later continued for many years with the name 'Echt!zeit'.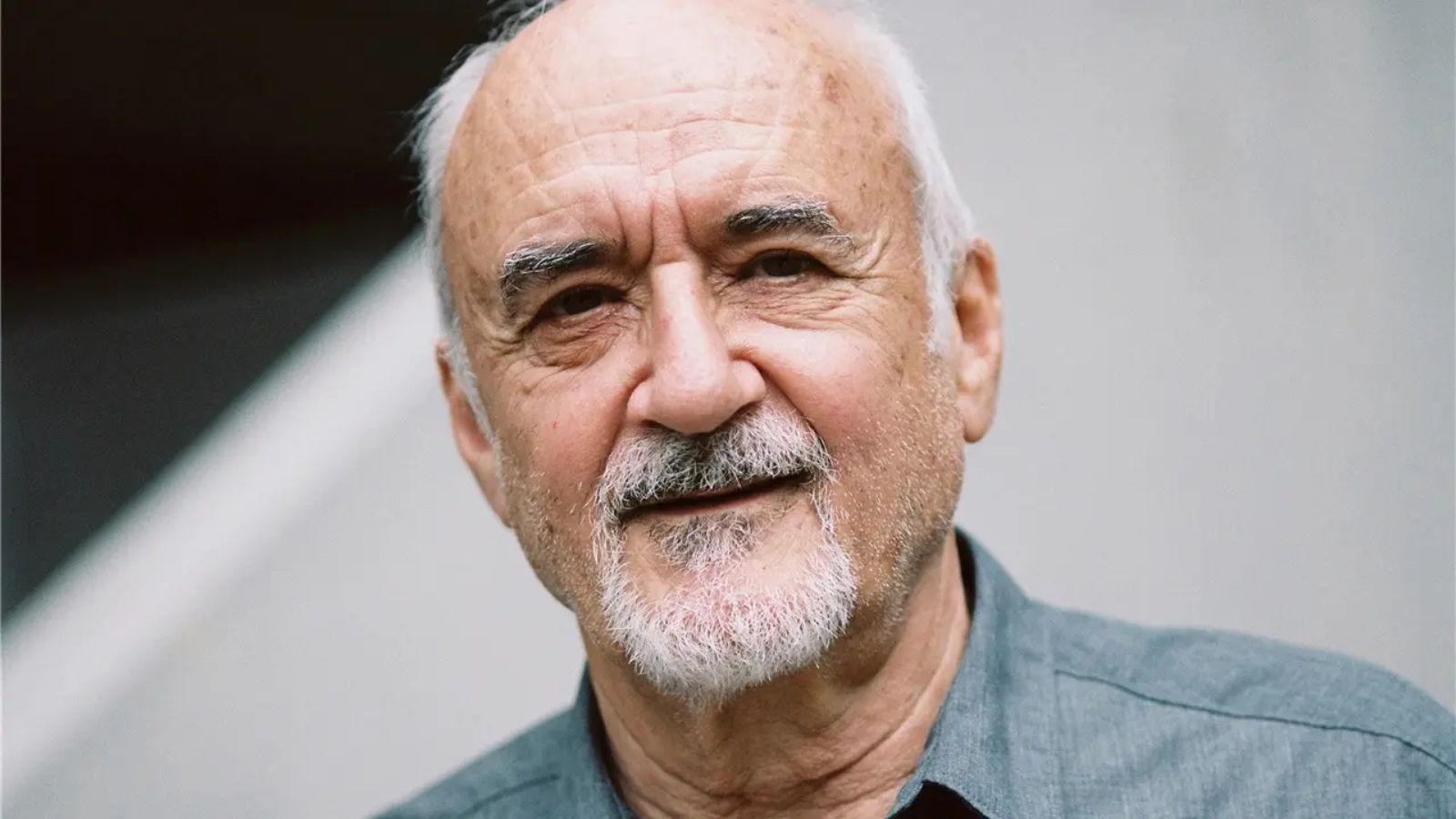 Thomas Kessler

The digitization of audio technology was already in full swing during this period. For the Electronic Studio, this meant that in addition to the high-quality analog equipment, consisting of a large mixing console and a 24-track tape machine from Studer, modular synthesizers from ARP, EMS and Roland, etc., digital devices and computers were increasingly found in the studio. Over the years, a Harmonizer H3000 from Eventide, a Publison DHM-89B2 pitch shifter, some reverbs from Lexicon, various AKAI samplers, a ProTools harddisk recording system and a MARS workstation were acquired. These new devices expanded the possibilities of sound processing enormously and fundamentally changed the method of working in the studio and performing concerts. With this growing digitization, the technical complexity of operating these machines also increased.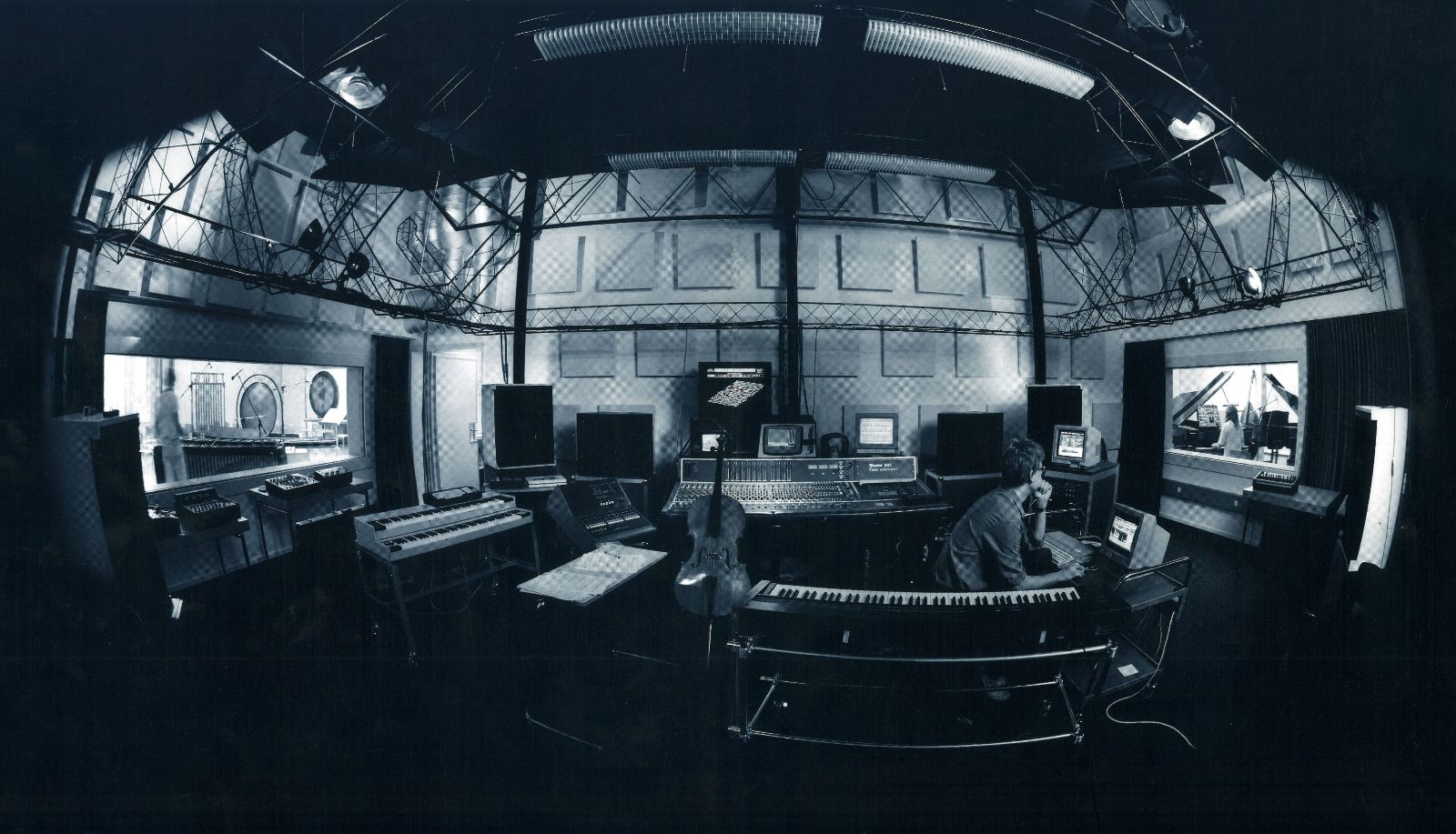 ESB in the 90s

The plan to establish a specialized degree program of its own at the Electronic Studio was realized in 1995. The idea was to create an education that would combine both technical and artistic skills at a high level - the Audio Design program was born. In fact, for a long time this advance represented a unique selling point for the Music Academy in the European higher education landscape. Wolfgang Heiniger was mainly responsible for the new degree program. The audio engineering department was taken over by Robert Hermann, who was a sound engineer at the Theater Basel, and Ernst Neukomm (DRS). Further courses were taught by Małgorzata Albińska-Frank as well as Daniel Weissberg.
In the following years, a stimulating atmosphere characterized by exchange developed between the specialized classes for electronic composition and audio design, as well as interested students from other courses and external guests. The production and performance activities were focused on works by Jacques Wildberger, Thomas Kessler, Wolfgang Heiniger, Giorgio Tedde, Junghae Lee, Daniel Almada and many others. In collaboration with Heinz Holliger, new (digital) versions of his works Cardiophonie and Not I were also realized.
Over the years, various distinguished guests came to Basel and enriched the teaching program with lectures and workshops; among them were Herbert Brün, Don Buchla, Messias Maiguashca, Philippe Manoury, Jean-Baptiste Barriere, John Chowning, Trevor Wishart, Folkmar Hein, Judy Klein, Hans Tutschku and Ludger Brümmer.
After Thomas Kessler retired in 2000, there was a brief tenure of Hanspeter Kyburz, who, together with Wolfgang Heiniger, comprised the new studio management. Kyburz added his interest and expertise in algorithmic composition to the studio's course offerings. However, the team of Kyburz and Heiniger moved on together to Berlin only a short time later, marking another break in the studio's eventful history at that time.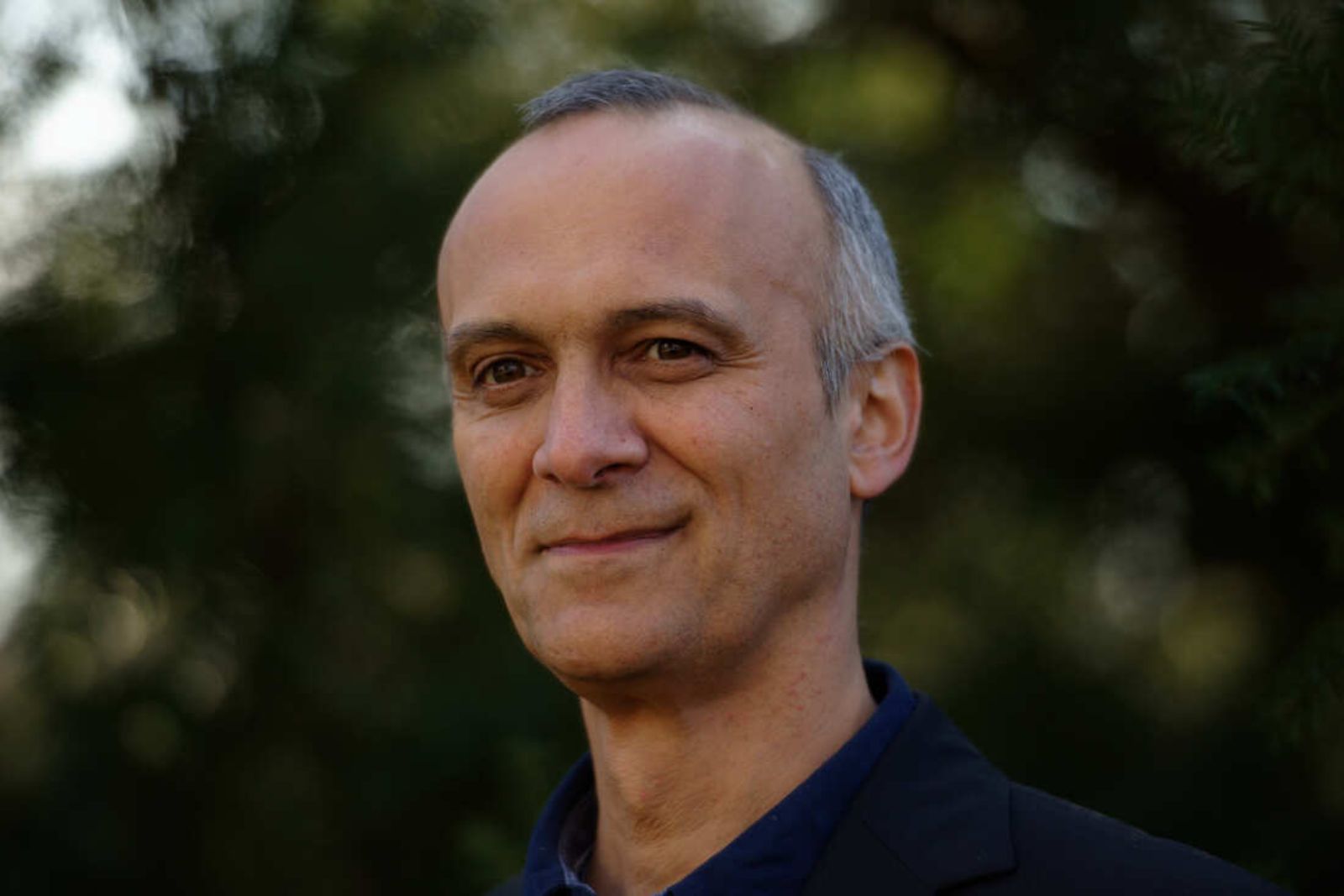 Erik Oña

After an interim period, mainly consisting of guest lectures, Erik Oña was introduced as the new studio director in 2003. At that time, Oña was already a renowned conductor and composer of instrumental and electro-acoustic music, and had most recently worked in Jonty Harrison's team at Birmingham University. Volker Böhm was made responsible for the audio design department and in 2006 they jointly organized the festival "realtime - non-realtime" with numerous guests including Miller Puckette and David Zicarelli, as well as Jonty Harrison and the Birmingham ElectroAcoustic Sound Theater (BEAST).
The festival's title and program were also emblematic of the studio's new orientation, in which studio productions, acousmatic music, and live electronics were equally emphasized and practiced. Later editions of the festival - then under the new name 'dBâle Electronic Music Festival' - expanded the spectrum and output of the studio to include topics such as electronic music with DIY instruments, improvisation with intelligent, computer-aided systems, and the overlap between creative sound design and acousmatic composition.
The early 2000s are also the genesis of the concert series 'Nachtstrom', which launched in collaboration with Gare du Nord - Bahnhof für Neue Musik - and in which well over 100 concerts with national and international guests have been and continue to be held.
The general lack of space within the MAB also increasingly became a problem for the Electronic Studio. As a result, a former lecture room, located next to the Electronic Studio office, was converted into a small multi-channel studio, and Studio 3, a former instrumental teaching room on the first floor, was used by the ESB. It is equipped with a grand piano and daylight (not a given for a studio room) and serves as a rehearsal room for exclusively live-electronic setups.
In addition to numerous guest lectures by Françoise Barrière, Michel Chion, Horacio Vaggione, and Fred van der Kooij, among others, the tradition of residencies for guest composers continued under Oña's direction. For example, Jonty Harrison completed his acousmatic work Internal Combustion at ESB, just as David Berezan realized and premiered his large-scale work "Ting," inspired by sound recordings of Jean Tinguely's kinetic sculptures, in Basel.
At the end of 2018, Erik Oña fell seriously ill and passed away in September 2019 at the age of 57. This wholly unexpected and terrible loss once again represented a break in the continuity of the Electronic Studio's work and its educational offerings. In the period that followed, the studio was led on an interim basis by Volker Böhm.
After a period of restructuring and realignment, a new director team consisting of Svetlana Maraš and Volker Böhm formed in September 2021.
(1) Daniel Weissberg: Das elektronische Studio der Musik-Akademie Basel. In: Bruno Spoerri (Hg.): Musik aus dem Nichts. Die Geschichte der elektroakustischen Musik in der Schweiz. Chronos, Zürich 2010
(2) ebenda
(3) ebenda
elektronisches studio basel
history